[carousel_anything items="1″ items_tablet="1″ thumbnail_color="#247db7″ thumbnail_active_color="#bed143″ stop_on_hover="true"]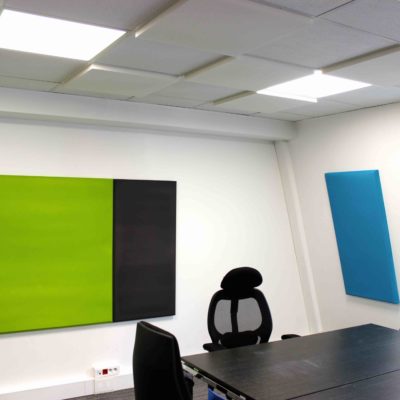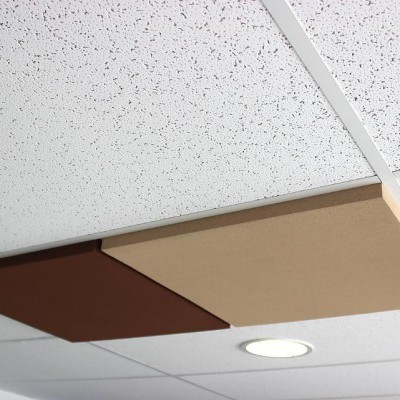 [/carousel_anything]
False ceiling slabs are very often used in company premises to rehabilitate worn surfaces and to hide technical equipment (tables, air conditioning, heating etc). False ceiling slabs also make it possible to reduce the ceiling height of a room.
However the more commonly used slabs do not reduce the sound level in a room. Even acoustic slabs are not sufficient; it is necessary to reinforce the acoustic effect by means of AbsorBruit® slabs which have a high absorption coefficient in middle and high frequencies (0.99).
All you need to do is replace the old suspended ceiling tiles with our AbsorBruit® tiles, either white or in colour. Echoing sound in a room is greatly reduced thanks to the high degree of acoustic absorption afforded by AbsorBruit® tiles.
AbsorBruit® panels possess strong acoustic absorption characteristics, as well as M1 Fire protection; they are long-lasting and easy to install.
This will create a haven of peace in your work environment, which will have the effect of reducing absenteeism rates and nervous fatigue among your personnel!